A cycling trip around two of Yamagata's most pristine waterfalls!
Shonai
3〜5h
〜40km
Intermediate
Guided
A cycling trip around two of Yamagata's most pristine waterfalls!
Did you know that Yamagata Prefecture has the largest number of waterfalls out of any prefecture in all of Japan?
Tamasudare Falls located in Sakata City is the tallest waterfall in Yamagata Prefecture with a towering height of 63m and a width of 5m. Beautiful no matter what season you choose to visit, the colossal cedar trees that line the area and are said to bring healing and solace to the soul. After taking in the sights, take a break at the Nikko-ri cafe and then visit Fudo Waterfall which is said to bring good fortune and luck to those willing to make the journey!
Yurinko Onsen (9:00 or 13:00)→Tamasudare waterfall →Nikkori Cafe→ Fudo waterfall → Yurinko Onsen (13:00)(17:00)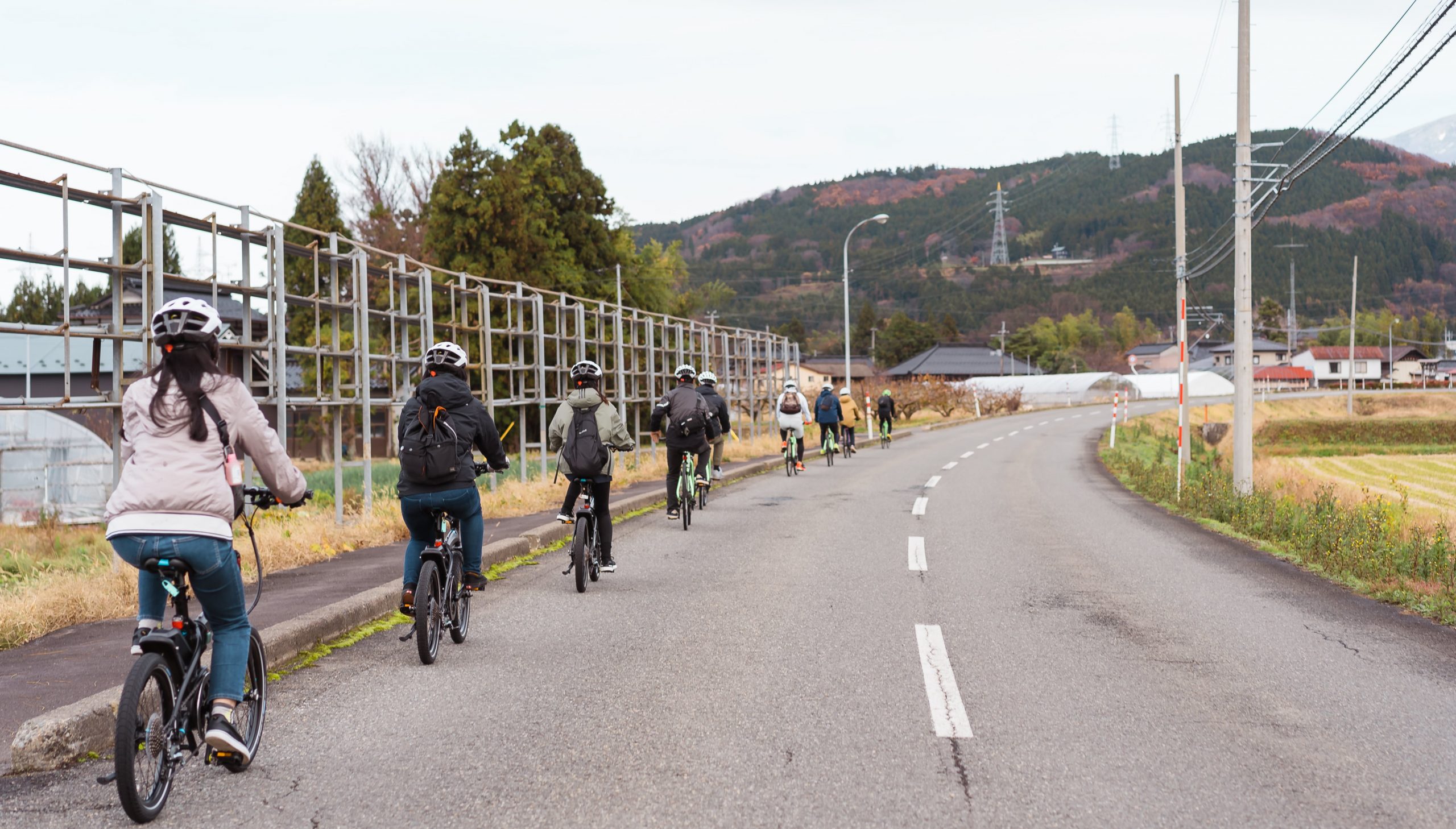 Course Detail
Available period

April until Early November
Available days

Monday, Friday,Saturday,Sunday
Price

¥8,800
Reservations

Please book at least 1 week before
Minimum number of participants

Minimum 2 people
Tour time

about 4 hours
Included

Bicycle rental, helmet, insurance, guide fee, coffee
Course Story
STORY.1

Yurinko Onsen

After a long day of tiresome cycling, rest your weary muscles here in the soothing hot spring waters!

There is also a break room and a dining room in the facility so you can build your stamina back up after the ride!

STORY.2

Tamasudare Falls

It is said that Tamasudare Falls was discovered and named by the renowned Buddhist Kobo Daishi, (Kukai) around 1200 years ago at the behest of God. With a height of 63 meters and a width of 5 meters, it is a sight for sore eyes to see the clear water flowing so gracefully from atop the distant cliff. The collection of large towering cedars surrounding the falls can make one feel as if they are in the forest of giants and one's fortune is said to take a turn for the best after paying a mindful visit!

STORY.3

Nikkori cafe

This cozy community cafe is known as "Nikkori Cafe" and is in the Nikkori Community Center. Here is the perfect place to catch a quick refreshment before heading out on your way!

If Nikkori cafe happens to be closed that day, you can still take a break with a cup of coffee at a scenic spot nearby!

STORY.4

Fudo Falls

This soothing waterfall has a height of 15m, and is known for bringing good luck and prosperity to those who visit. Hopefully after seeing the spectacular flow of the falls, your body too will flow with the strength of a waterfall!

GOAL

Yurinko Onsen
【Cancelation Policy】
*For our customer's convenience, cancelation is possible if made far enough in advance however the following outlines our cancelation fee policy
・Within 3 days prior to day of: Free
・Within 2 days prior to day of: 20%
・Within one day prior: 50%
・Day of/no show: 100%
If it is predicted that the tour will be difficult to proceed with due to bad weather such as heavy rain or snow the tour will be canceled. In that case, he will contact you by email by 18:00 the day before with details. Even on the day of the tour, if it is judged that the tour will be dangerous due to bad weather it will be canceled. and in that case no cancellation fee will be charged.